"Parviz Tanavoli, the nightingale of Iran"
By Hadani Ditmars | Mei@75
27 May 2020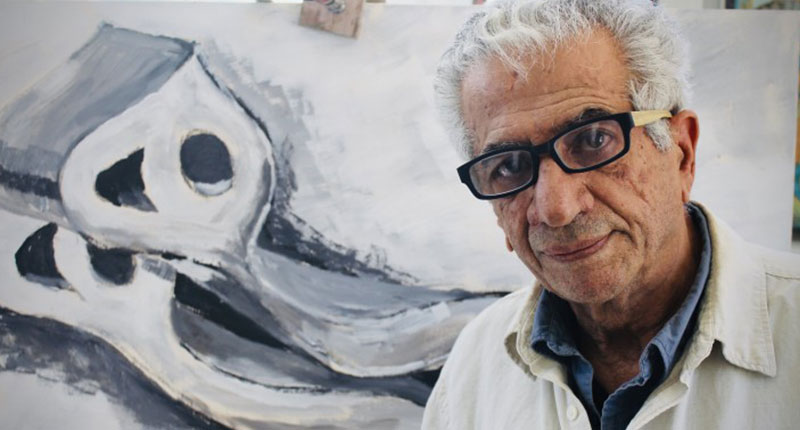 Far from his native Tehran in bucolic West Vancouver, Parviz Tanavoli, the 83-year-old "father of modern Iranian sculpture," contemplates the fate of his homeland.
"My heart breaks when I see what is happening in Iran now," says the renowned artist, who divides his time between a life of relative obscurity on Canada's Pacific coast, and Tehran, where he is referred to simply as "Master Tanavoli."
His career has spanned the fall of empires and the dawn of revolutions, patronage by Empress Farah Diba, and the mentoring of hundreds of students, as well as decades of journeys between the Middle East and the West.
"The worst time"
"But this is the worst time I remember," he relates, "worse than the eight-year war with Iraq."
Iran has been devastated, he says, by the twin terrors of COVID-19 and Western sanctions, combined with the dramatic decline in the price of oil.
"People have lost their jobs," he explains. "They have no work, no income, and the sanctions make it worse." The government, he says, in spite of endemic corruption, simply doesn't have the resources to help their citizens. More than 7,000 people have died and over 125,000 cases have been recorded since the country announced its first cases of the novel coronavirus in February.
But as the Iranian people are once again caught in the crossfire of realpolitik, Tanavoli has found a unique way to assist them through his artwork.
Impressed by the stoicism of Iranian health care workers in the face of adversity, and moved by the plight of hospitals that lacked equipment to fight the coronavirus, last month Tanavoli designed a limited edition series of medallions, measuring just over 2 inches by 2 inches, in silver and bronze. A way to draw attention to both the sanctions-plagued public health care system, which was once robust but has "suffered from two years of the worst sanctions under Trump," and Iranian culture, the medallions sold out in less than a week. Snapped up primarily by members of the Iranian diaspora, they raised over $90,000 for medical aid in Iran.
So far the funds have been used to buy an oxygen tank for a hospital in western Tehran, while a team spearheaded by Tanavoli's daughter, Tandis, a filmmaker in Iran, is liaising with charities to determine the hospitals most in need of assistance.
Tanavoli acknowledges that his effort "can't help everyone in need," but says he felt compelled to do something.
In a way the medallions — featuring a nightingale singing in the palm of an outstretched hand and on the flip side, a cypress tree with a dedication to health care workers — are reminiscent of the talismanic objects found at Iranian shrines. The nightingale, he explains, is a "messenger of love" and the cypress tree, a symbol of good health and longevity. The series of scratch-like lines in the background behind the nightingale are particularly evocative of traditional talismans, like the ones Tanavoli encountered as a boy when he travelled to shrines with his father, a restaurateur who catered to Shi'a pilgrims.
Fusing the ancient and the contemporary
As a founder of the mid-century neotraditional Saqqakhaneh art movement in Iran that fused folkloric tradition with contemporary idioms, Tanavoli has spent his career collecting and writing about such objects — as well as locks, tools, and even kitchen utensils — and incorporating them into his artwork. The term Saqqakhaneh — first coined by art critic Karim Emami to describe a group of young avant-garde artists who exhibited at the Third Tehran Biennial in 1962 — refers to the traditional drinking fountains found at shrines to Shi'a martyrs denied water during the battle of Karbala. The grill-like saqqakhaneh, which often have locks and other votive objects attached to them, have been a strong visual influence in Tanavoli's work.
"Iranians live with talismans," the master explains. "For every illness or obstacle there was always a special one. The makers of talismans acted like psychologists today. People would visit shrines and ask them for help, and they would write a 'prescription' — an engraving in copper, brass, or silver."
The talismans were traditionally body parts like eyes, hands, hearts, or even legs for people who couldn't walk, relates Tanavoli. For the lovelorn, special images of happy couples or say, a woman sitting on a lion for "strength" would be engraved.
Indeed, there is something of the Sufi mystic in the artist, who admits that his "life changed forever" when he encountered the poet Rumi for the first time at age 16.
Tanavoli quotes a line from one of his favorite poems that could well have inspired his medallion:
I am that bird from the heavens above
To this Earth, I do not belong
Here, for a few fleeting days
Out of my body, I have built a cage
And reads another about nothingness, that speaks to his ongoing sculpture series Heech:
Existence all nothing and All beings nothing …
After you die Do you know what shall be?
There shall be love and kindness The remainder, nothing
Then there is the famous line: "We came whirling out of nothingness scattering stars like dust."
"Rumi," says Tanavoli, "was my first mentor."
Protesting "nothingness"
Tanavoli's Heech (the word for "nothing" in Farsi) series has evolved into a kind of abstracted progression from his school of Saqqakhaneh, boldly expressing the passion and poetry of calligraphy with a contemporary sensibility, in the form of sculpture and even jewelry. Each new incarnation speaks to a different era in the artist's trajectory. When it premiered in 1965 Tehran, it was a protest against the "nothingness" of the Iranian commercial art scene that the young artist found too confining in its bourgeois fixation on "prettiness."
In 1960, fresh from a scholarship to study in Italy with the likes of Marino Marini, Tanavoli kept a studio on south Tehran's Pahlavi Avenue called Atelier Kaboud, notable for its giant scrap metal sculpture of a man embracing a deer displayed on the balcony, that would become an artistic hub for young artists and intellectuals. He used found objects from the neighborhood's foundries, blacksmiths, and welders' shops, incorporating them into his sculptures, ceramics, and paintings. At the same time, he began collecting devotional objects and carpets. The resulting style, coined by some as "spiritual pop art," often shocked prevailing mores, but in 1961 it also caught the eye of American patron Abby Weed Grey, in town for an exhibition of Minnesotan artists she had organized through the Iran-America Society.
After Rumi and Empress Farah, Grey, who organized a residency for him at the Minneapolis School of Art in early 1962, would become another mentor and important collector. When Tanavoli returned to Iran two and half years later, he began to prepare for a 1965 exhibition at the aptly named Borghese Gallery that shocked local audiences with the likes of toilet ewers and other everyday objects married to traditional folkloric design and evoked as semi-sacred icons. The gallery had to close when a mob threatened to burn it down.
Tanavoli himself, through his patronage by Empress Farah, was instrumental in the development of the rich contemporary art scene in Iran. The empress, who was studying architecture in Paris when she met the Shah, "did so much for the art of Iran — and so much for me as an artist," remembers Tanavoli." She paved the ground and created a good atmosphere for arts in Iran. I managed to grow up under her and to grow up faster as an artist."
Tanavoli was also invited to be on the board of her foundation, advising on the permanent collection at the Tehran Museum of Contemporary Art, which until today still has one of the best collections of Western 20th century art in the region. "The 60s and 70s were really the golden age for the arts in Iran," he reminisces.
Grey returned to Iran in 1973, on the occasion of a special exhibition of Tanavoli's Heech sculptures, when she acquired the monumental Heech Tablet, a seven-foot-high bronze statue covered with stylized cuneiform markings, evoking both ancient Persian and Islamic folk motifs. Six years later, Tanavoli's career was truncated by the 1979 Revolution, and his passport was seized. He used his decade of internal exile to travel to the north of Iran to study and acquire nomadic rugs and textiles and wrote several books on the subject. When his passport was returned in 1989, he emigrated with his young family to Vancouver, but over the past decade has travelled every three months to Tehran, to teach, create, write, and keep abreast of the contemporary art scene.
In 2005, his Heech in a Cage became a protest against prisoners in Guantanamo. In 2016, a 15-foot version in steel was installed at the entrance to the Aga Khan Museum in Toronto. This spring, an even larger version, at 18 feet high, was installed in the courtyard of a new residential tower (designed by architect Chris Dikeakos) in a Vancouver suburb. Commissioned by the prominent Iranian Malekyazdi family's Millennium Development company, this Heech is now part of the city of Burnaby's permanent art collection. Not without some irony, considering its name, the unveiling of the sculpture was delayed by the corona crisis, and so it stands alone now in an empty courtyard, contemplating beingness and nothingness in a fusion of Sufism and Sartre.
Vancouver and Tehran
For Tanavoli, whose work has been exhibited at the Tate Modern and the British Museum, the anonymity of Vancouver provides a happy balance with the intensity of Tehran.
"I have a good studio in Tehran," he recounts, "with many assistants — which I don't have here. But the peace I have here is impossible in Iran, where life is exciting but turbulent."
Indeed, turbulent may be an understatement. After accepting a 2002 offer from the then mayor of Tehran under the rule of reformist Mohammad Khatami to sell his art-filled house and studio (designed in 1967 by architect Kamran Diab — a cousin of Empress Farah) to the city as a museum, he faced a six-year battle with Mahmoud Ahmadinejad. Elected as mayor only a few months after the initial agreement, he called Tanavoli's work "Western rubbish" and threatened to turn the house into a mosque. The Supreme Court eventually returned his house and artworks to him in 2008, the same year as his sculpture, The Wall (Oh Persepolis), sold for £1.87m at an auction in Dubai, setting a new record for Middle Eastern artists and making him the highest-earning Iranian artist.
But now Tanavoli's two cities, locked in a traveler's embrace, seem as naturally intertwined as his Heech lovers, with many of his works executed in Iran conceived in the quiet contemplation of his Vancouver studio.
In the Vancouver suburb of Horseshoe Bay where "nothing ever happens" Tanavoli lives the life of a journeyman hermit, rising at dawn for a walk by the sea, before spending hours in his library and studio, sketching, writing, and seeking solace in his extensive collections of textiles and artwork.
Even as he continues to make something out of nothing, Tanavoli's longing for his homeland — where current pandemic conditions prevent him from travelling — is evident. Contrary to the stereotyped image of Iranians in the West, Tanavoli sees them as a nation of "art lovers."
"During 40 years of revolutionary government," he contends, "contemporary art has flourished — not because of the government, but because of Iranians themselves. They cannot live without art, it's part of their everyday lives."
"When people get married," he relates, "there is always a list of artworks like rugs and miniatures included in the dowry. Iranians always like to live with art and show it to their friends and guests. In every small apartment you find something interesting that draws you in."
While Canada has provided his family with safety and space, there is an emptiness that comes with that. "Here, if you go to a rich man's house, there's lots of expensive furniture but nothing that touches you in terms of art."
Today artists and intellectuals share in the suffering of their fellow Iranians. The market for art has fallen with people's incomes and even publication of Tanavoli's next book has been delayed due to a shortage of ink and paper (although his last book is available from Bloomsbury in London).
Yet artists remain at the forefront of social protest movements, albeit by employing veiled allusions and double meanings in poetry, theater, and visual arts, says Tanavoli.
"Only a miracle could save things now"
But his homeland is in dire straits, contends the artist.
"I hope there are no crazy wars like in Syria, Iraq, and Afghanistan," he says. "I
hope the people of Iran are wise enough to take a peaceful route, although it doesn't depend on the people but on the leaders."
While he hopes for an end to the current political deadlock between Iran and the West, he admits that given current circumstances, "Only a miracle could save things now."
As for international sanctions on Iran, already lifted by the European Union on humanitarian grounds, Tanavoli hopes that the U.S. and Canada will follow suit, saying "If they don't, more people will die."
"If the world doesn't respond to Iran's cry for help, God knows what will happen. There will be a catastrophe."
Still Tanavoli sees some silver linings in the current global pandemic, which has forced everyone to engage with one of the main Sufi principles of isolation. "When your brain is not so occupied by the distraction of daily life, the result is a deeper discovery of your own mind and the universe around you."
The coronavirus crisis, he says, has shown that "We are all a part of this world and we have to live with each other." Paraphrasing an old Iranian proverb, he says, "We cannot play just our own sound; if there is a song, we have to sing it together."
And like the nightingale on his medallions who bring good tidings, Tanavoli's art continues to heal the hearts of Iranians — and art lovers — everywhere.
Hadani Ditmars is the author of "Dancing in the No-Fly Zone: A Woman's Journey Through Iraq," a past editor at New Internationalist, and has been reporting from the Middle East on culture, society, and politics for two decades. The views expressed in this article are her own.
Top photo by Hadani Ditmars
Similar Articles
---