"How art went Pop in Iran"
15 September 2015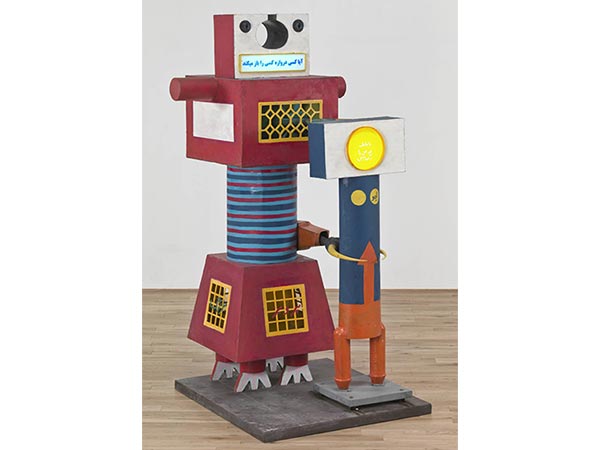 Tate Modern show uncovers Parviz Tanavoli's folk art-inspired works that raised eyebrows in 1960s Tehran
A 78-year-old Iranian sculptor who pioneered his own version of Pop art more than 50 years ago in the suburbs of Tehran features in the exhibition The EY Exhibition: The World Goes Pop which opens this week at Tate Modern in London (17 September-24 January 2016). Eight works by Parviz Tanavoli, all drawn froom the Tate's collection, will go on show, including the screenprints Three Lovers (1974) and Nightingale (1974).
Tanavoli studied at the Tehran School of Fine Arts in the mid-1950s and then headed for Italy, immersing himself in European art and culture in Carrara and Milan. In 1959, he graduated from the Brera fine arts academy in Milan and then returned to Iran.
He was, however, evicted from his government-run studio by the Ministry of Fine Arts. This led him to a community of pottery shops and blacksmiths in the south of Tehran where local markets, filled with neon lights, shiny advertisements, locks, talismans and trinkets, fed into his vision.
"Like Basquiat making art at another time and in another place, he roamed the streets of south Tehran in the 1960s, finding discarded objects," says Shiva Balaghi, a visiting scholar at Brown University in Rhode Island, who co-organised a retrospective of Tanavoli's work earlier this year at the Davis Museum, Wellesley College in Massachusetts.
The Saqqakhaneh school, which also included the artist Hossein Zenderoudi, subsequently flowered in Tanavoli's Atelier Kaboud workplace. This new school fused avant-garde theory with Iranian folk culture motifs, producing a Middle Eastern strain of 1960s modernism rooted in popular culture.
Flavia Frigeri, the co-curator of The World Goes Pop, writes in the exhibition catalogue that "the lack of a sculptural legacy in Iran made it all the more challenging for Tanavoli to develop three-dimensional Pop works while keeping with tradition. The answer came in the guise of folk pop, a marriage of pop with traditional handicraft." A key sculpture in the show, The Poet and the Beloved of the King (1964-66), incorporates household elements such as grills.
"When I showed these works in the 1960s, Tehran galleries were showing pretty art, pretty women, and pretty flowers, mostly in the Impressionist style. My works caused turmoil, no-one took me seriously," Tanavoli says. "My show [at a local gallery in the capital] was closed down in few days. I felt bad to the extent that I thought I was going in the wrong direction. That is when I switched to making Heeches [sculptures depicting the Farsi word for 'nothingness']."
In 1965, Tanavoli's work Innovation in Art caused a stir when it was unveiled in a Tehran show. The piece, comprising a metal pitcher adorned with rainbow stripes inserted in the centre of a Persian carpet, was made with a Duchampian flourish. The work is now in the collection of the Guggenheim Abu Dhabi.
Similar Articles
---