"Parviz Tanavoli: Half a Century of Art in US Museum"
By Firouzeh Mirrazavi | Iran Review
8 February 2015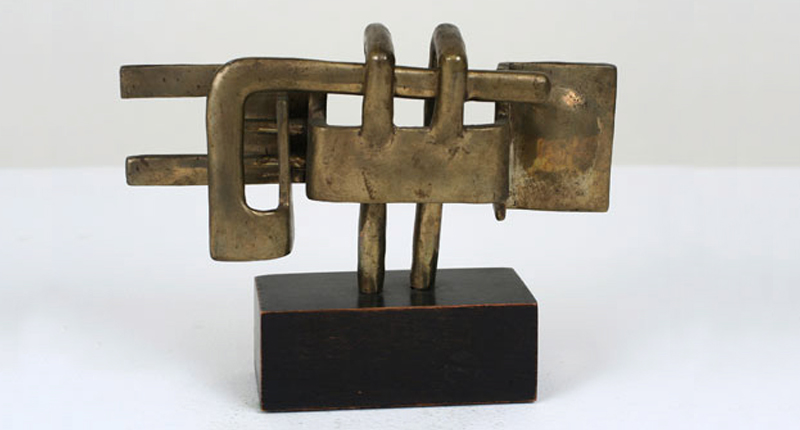 The Davis Museum in the Wellesley College of the United States will be holding a retrospective of celebrated Iranian sculptor Parviz Tanavoli in an exhibition opening on February 10. "I am very happy this is happening, especially in the United States, because of this embargo and lack of communication," Tanavoli told the Middle East Monitor (MEMO) in an exclusive interview published last week.
Middle East Monitor is an independent media research institution in Washington founded in 1946 to foster a fair and accurate coverage of Middle Eastern issues.
"I think this might open the door. Americans have the right to see the other side of our culture; I mean the cultural part not just all this bad news," Tanavoli said.
He added, "This is a good time, a good period, and I'm very much looking forward that there is going to be communication through art, and Americans can see a taste of the art of Iran and myself and that part of the world."
Over 175 of his pieces will go on exhibit until June 7, and according to the artist, the exhibit will be a good opportunity for Americans to experience Iranian culture that often gets lost in news reporting.
Parviz Tanavoli is one of the most influential and pioneering artists of the Middle East. An artist–fabricator, teacher and collector, he was born in 1937 and lives and works between Iran and Canada. Tanavoli is a founder member of the Saqqakhaneh School (a school of art that derives inspiration
from Iranian folk art and culture), a school that has been described as a 'spiritual Pop Art' and is now considered the inspiration for progressive modern Iranian art. Upon graduating from the Brera Academy of Milan in 1959, Tanavoli taught sculpture for three years at the Minneapolis College of Art and Design. He then returned to Iran and assumed the directorship of the sculpture department at the University of Tehran, a position he held for 18 years until 1979, when he retired from his teaching duties.
Since 1989 Tanavoli has lived and worked in Vancouver. His latest solo exhibition was a retrospective held in 2003 at the Tehran Museum of Contemporary Art. Prior to that he had held solo exhibitions in Austria, Italy, Germany, United States and Britain. Tanavoli has been in group exhibitions
internationally. His work has been displayed at the British Museum, the Grey Art Gallery, New York University, the Isfahan City Center, Nelson Rockefeller Collection, New York, Olympic Park, Seoul, South Korea, the Royal Museum of Jordan, the Museum of Modern Art, Vienna, Museum of Modern Art, New York, Walker Art Center, Minneapolis and Shiraz University, Iran. His key work is the calligraphic figure of Heech (Nothingness), a recurring theme in his sculptural repertory which contains reference to the human figure, evident both in the upright sculptural forms and their titles. In 2005, he created a small piece of sculpture called Heech in a Cage to protest the conditions of the American-held prisoners at Guantanamo Bay detainment camp and in 2006 began work on his piece to honour the victims of the Israeli-Lebanon war.
Crucial to understanding Tanavoli's achievements is the realization that he has explored, analyzed and absorbed the rich visual, literary and craftsmanly
traditions of Iran. It is virtually impossible to separate his work as an artist from his passionate engagement as a researcher, teacher, collector and author. These complex relationships are perhaps most richly and most succinctly represented by the artist's life-long preoccupation with the lock. Dismantling and repairing locks was a favourite pastime from early childhood, and that has no doubt offered important "sculptural" lessons about formal interrelationships, including those of positve and negative space. Parviz Tanavoli collects Persian locks and has written a book about them. Persian padlocks are among the oldest in the world. They come in many shapes from pots and bowls to birds and animals. Some are opened by keys, some by combinations, some need several people to open them.
My 1965 sculpture exhibition at the Borghese Gallery in Tehran generated nothing but criticism and hostility, but one item endured and went on to earn recognition, proving to be the beginning of a new phase for me. In the upper part of this composition was a plastic circle enclosing the word heech (nothing) also in plastic and shaped in beautiful Persian script. Below were hands, executed in plaster, grasping a copper grille.
I cannot say what it was the impelled me to create this piece – whether I was anxious about having reached a point of nothingness and was trying to ward off the tendency, or whether I wanted to succumb to it and bring it to realization as a creative source.
The artistic environment of the time, the school whose methods and pedagogy I could not believe in, the thinkers and artists who daily trumpeted some new artistic phenomenon from the West, and the aristocrats who proudly bought their second-hand merchandise, provoked in me a reaction of protest: heech was the voice of protest…
My nothingness, however, was not tinged with the cynicism of Western artists.
Mine was the nothingness of hope and friendship, a nothingness that did not seek to negate. In my mind, it was not life that amounted to nothing, but rather nothing which brimmed with life itself. Interview with Parviz Tanavoli
Parviz Tanavoli, (an Iranian sculptor, painter, art historian and collector) is undoubtedly an outstanding figure in Iran's contemporary art circle and an unforgettable presence in our ancient nobility and national identity, while respecting the meaningful qualities of contemporary art.
He was born in 1937, and studied sculpture at the College of Fine Arts at Tehran University, graduating in 1956, and then attended the Academia di Belle Arti in Carrara (1956 - 57) and the Academia di Belle Arti in Milan (1958-59), where he worked under Marino Marini. In 1960 he began to teach at the College of Decorative Arts in Tehran, and in 1961 he was invited to the Minneapolis College of Arts and Designs as a visiting artist, where he taught sculpture until 1964. In
1964 he returned to Tehran to teach sculpture at the College of Fine Arts. Primarily as a sculptor, he worked with a range of materials, including bronze, copper, brass, scrap metal and clay. Part of his works is named Saqqa- khanei (water- carrier house) based on people's culture and folkloric beliefs. There was a time when he also made sculptures that were reminiscent of religious shrines and objects, like Persepolis, Pasargad, Bishapour and Islamic mosques and monuments.
Pairs of figures and fantastic birds were also common subjects. He was also influenced by themes from classical Iranian literature. He frequently used the word 'Heech' (i.e. nothing) as a sculpture in calligraphic form, using the word on a small scale for a ring and on a large scale for a sculpture in stainless steel (h. 3.35 m) on the campus of Hamline University, St. Paul, MN, where he was visiting artists in 1971.
He exhibited his work widely and received commissions from all over the world. He taught at art colleges and universities in Iran and the U.S.A., retiring from his position of professor of sculpture at Tehran University in 1981. As an art historian, he wrote books and articles on Iranian arts, especially rugs and textiles. His writings, like his sculptures, demonstrate an awareness of the traditions of Iranian life gained from extensive travel to villages and tribal areas. Also he formed collections of Islamic rugs, tools, locks and native stonework. The following is an extract of interview which Mahjubah Magazine conducted with the master:
Q: Why do you create?
A: Well, it is better to say, it can be a need, which motivates artists to create art. I believe it is like any other job, which ends in production and each art has it's own product as well. Yet, it requires more attention, sensitivity and finesse. If I don't create, I am not a happy man. I should go to my workshop every morning and work with plaster, mud and stone the whole day. It is my daily activity and making sculptures requires much activity and energy.
Q: What motivates you to create artistic works?
A: My motives are quite varied. Sometimes, a piece may last a year and ends there, but the motive or the idea just passes through the mind only for a second.
Q: How satisfied are you with your artistic activities in all these years?
A: To be honest, I am not satisfied at all. If I were to gauge my own works, I would surely give it a zero. I have not yet done even a part of that which I have in my mind, in reaching my aims and goals. So, I would like to create more and more work.
Q: How do you perceive art and its role in the society?
A: A society with no art is a flat and spiritless one, and we are unfortunately, becoming distant from art. We didn't live without art until 50 years ago. The daily life of Iranians was mixed with art. Beautiful hand woven carpets were under our feet, in our rooms, nice curtains were hanging over our doors and windows, tablecloths were beautifully woven and decorated with unique patterns. The bowls, dishes and pottery were hand-made, and everything was mixed with art. But today, industrial products are so quickly replacing the handmade ones that sometimes there is no sign of art. Even some of the carpets are no longer hand-woven. This isn't a good sign and leads the society toward being artless.
Q: What is the role of the artist in promoting art?
A: Well, the artists are doing their jobs, but there must be intermediaries as art experts between the artists and the society. Our society lacks these intermediaries. The artists cannot themselves both create and find a market to present their works in the society, as well. This is the job of the intermediaries, and they should be more active in the country.
Q: How do the common people and non-artists perceive your modern works?
A: I have not had an exhibition in Iran for 25 years, and this is my first one, after a lapse of so many years. So, I had not directly observed the people's perception of my works. But, in this exhibition, I was very amazed and surprised to see a very favorable reception, especially the youth; which is really a blessing and encouraging for me. And I am quite glad that I have not been forgotten, and the interest of the people is of great importance to me.
Q: Could you expound on "Nothing", seen in your recent works and the various shapes it takes in your sculptures?
A: It can mean the empty spaces of sculpture in the history of Iran when there was no sculpture.
It points to my interest in Iran's mysticism and poetry. It draws attention to mortality expressing that nothing is immortal and to its shapes in the Persian language which signifies man and his figure. There is nothing in everything and there is everything in nothing. Nothing embraces a wide range of meanings. Artist Nina Cichocki, about Tanavoli's sculptures of "Nothing", says: "Tanavoli's nothingness conveys spirituality and its origin was the theme of subduing, cherished in Persian Sufi poetry. Adherents to Sufism pursue proximity to God through subduing the self. In order to exist and be one with God, one has to subdue oneself, one's individuality. Thus, nothingness has a very positive connotation, since it leads to the loftiest spiritual achievement possible. This positive aspect is emphasized in Mathnavi of the famous mystic poet Mawlavi."
Q: What were you seeking by collecting ancient carpets, Gabbeh (kind of carpet woven by nomads), locks, keys and so many other things?
A: I wasn't after royal art, belonging to the kings and royal families. I like the art of the common people, nomads, and rural arts and their various handmade and hand-woven works. MeasureMeasure
Similar Articles
---