"Tehran Book Garden launches art gallery by Heech and All"
7 July 2018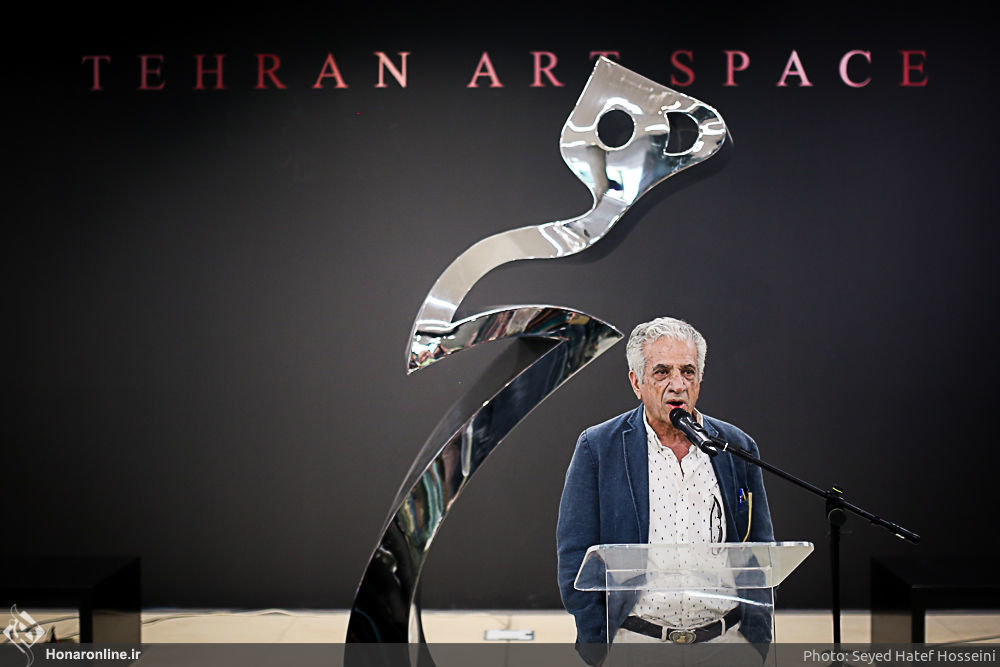 TEHRAN – A great number of Iranian art elites came together at the Tehran Book Garden on Friday evening to attend an inauguration ceremony for the Tehran Art Space, a large gallery that hosted the prominent sculptor Parviz Tanavoli and his students during its debut exhibition titled "Heech and All".
Tanavoli's latest works from his famous series "Heech" (meaning "nil" in Persian) and works from 40 of his students have been selected to be displayed at the showcase, Tehran Art Space director Vahid Malek said at the opening ceremony.
Actor Reza Kianian, Tehran Auction director Alireza Sami-Azar and Research Institute for Cultural Heritage and Tourism director Mohammad Beheshti were among the participating guests.
In his short speech, Kianian said that the works that Tanavoli creates for the Heech series will never get old.
"Tanavoli is a sculptor, painter and collector. He does now follow Western art but is in love with the art of the unknown people of his country," he said.
"Tanavoli's Heech has not been acquired cheaply, they contain mystic poetry and words, and do not compete with the ones being made. The works from the series find their meaning through repetition," he added.
In his remarks, Beheshti called Tanavoli a man who likes teaching. "He has trained many students over all these years, and this is not very common among artists.
"When I look at the students' works on show, I feel they all shout that they belong to Tanavoli's students, not just because they look like works by Tanavoli, but since Tanavoli has done his best as a master and has helped their talents flourish. These all indicate that Tanavoli is a great blessing for all of us and thank God we appreciate it," he added.
The ceremony was brought to an end introducing Tanavoli's latest book "Lovers".
Photo: Sculptor Parviz Tanavoli makes a speech at "Heech and All", an exhibition displaying works by Tanavoli and his students, at the Tehran Art Space on July 6, 2018. (Honaronline/Hatef Hosseini)
Similar Articles
---