"Tanavoli's Works at TMoCA After 17 Years"
19 June 2017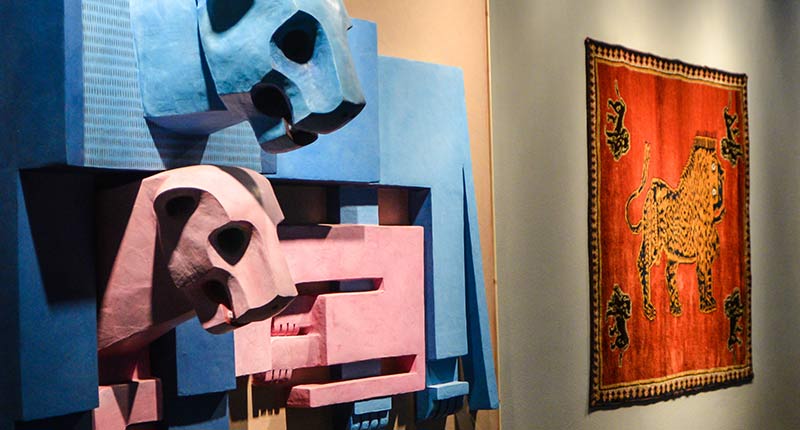 Veteran artist Parviz Tanavoli will showcase a selection of his artworks at Tehran Museum of Contemporary Art (TMoCA), 17 years after his last exhibition there.
His solo exhibit titled 'Persian Lions' will open on July 5. More details on the types of works to be shown at the event will be announced at a press briefing next week, Honaronline reported.
In 2000, TMoCA displayed a collection of sculptures and paintings by Tanavoli, who was living in Canada at the time, and introduced his wide range of works to the Iranian audience.
Tanavoli, 79, is also an art scholar and collector. On graduating from the Brera Academy of Milan in 1959, he taught sculpture for three years at the US Minneapolis College of Art and Design. He then returned to Iran and assumed the directorship of the Sculpture Department at the University of Tehran, a position he held for 18 years until 1979, when he retired from teaching.
Tanavoli is best known for his bronze sculptures inspired by calligraphy. He is a pioneer of the 1960s' Saqqakhaneh movement, the neo-traditionalist movement which incorporates Iranian folk art and is seen as the first school of Iranian modern art.
In his six-decade career, Tanavoli's work has been exhibited across the globe including the Tate Modern in London; Grey Art Gallery in New York; the Tehran Museum of Contemporary Art and Toronto's Aga Khan Museum.
Many works of the veteran artist have been auctioned around the world, making him one of the most expensive living Iranian artists.
Similar Articles
---