"Iranian sculptor Parviz Tanavoli's works on display in Vancouver gallery"
12 July 2023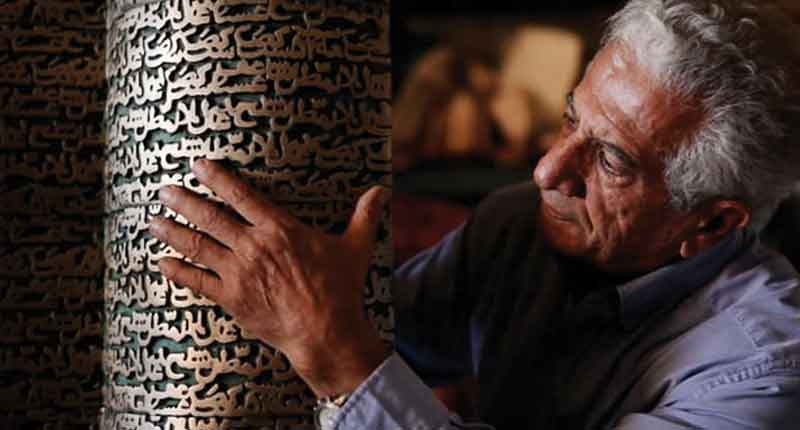 TEHRAN –A collection of artworks by prominent Iranian sculptor Parviz Tanavoli is currently on display in an exhibition in Vancouver Art Gallery in Canada.
Entitled "Parviz Tanavoli: Poets, Locks, Cages", the exhibit is the first major Canadian exhibition of works by the Iranian-born, Vancouver-based artist.
The exhibition features a captivating collection of over 100 significant works that showcase the artist's prolific six-decade career. It encompasses an extensive range of mediums, including sculpture, painting, printmaking, and mixed-media assemblages, providing a comprehensive and awe-inspiring insight into the artist's diverse practices.
"I would have loved to be a poet, but I am a sculptor. But my sculptures are a kind of poetry," the 86-year-old sculptor said in a statement for his exhibition.
Internationally celebrated, Tanavoli has lived in Vancouver for over thirty years while also maintaining a studio in Iran.
"He is among the foremost contemporary Iranian artists. He belongs to the Saqqakhana School, which emerged in the early 1960s in Iran, and has been influenced heavily by his country's history, culture and traditions," the gallery said in a statement for the exhibition.
"Iranian cultural practices underwent a transformation in the mid-twentieth century, which divided the art community into those who embraced a national artistic identity and those who were heavily influenced by Westernization," reads part of the statement.
"Artists began reconceiving folk culture, Persian traditional motifs and Islamic iconography at a time of increasing global consciousness and technological development, forging a link between heritage and progress."
Tanavoli—who has been widely recognized as the only Iranian artist to fully capture the duality and interplay of Iran's pre-Islam and Islamic cultural identities created a visual symbology through his sculptural work that would have a lasting impact on modernism in Iran.
"Parviz Tanavoli: Poets, Locks, Cages" examines the layering of both sacred and secular histories in Tanavoli's work, an integration that is crucial to understanding the development of modern sculpture in Iran.
The exhibit will run until November 19.
Tanavoli is a founding member of the Saqqakhaneh School, the first modern art movement in Iran. His practice incorporates modernist aesthetics with traditional motifs including handicrafts and Persian literature.
Tanavoli has showcased his artworks at major art centers across the world, including the Tehran Museum of Contemporary Art, Tate Modern in London, Metropolitan Museum of Art in New York, British Museum in London, Minneapolis Institute of Art and the Venice Biennale.
Numerous museums, including the Metropolitan Museum of Art, British Museum, Tate Modern and the Museum of Modern Art in Vienna, are displaying his work in their collections.
Tanavoli has devoted himself to serious studies of Iranian nomad carpets and rugs, which have been published in the books "Shahsavan Iranian Rugs and Textiles" and "Persian Flatweaves".
Tanavoli is also known for his expansive body of works including paintings, prints, ceramics, rugs and jewelry. In addition, the artist is a highly-regarded collector and poet.
In his book, "Mania for Collecting", published in 2021, he tells about his passion for collecting strange and rare objects.
Photo: Iranian sculptor Parviz Tanavoli in an undated photo.
ABU/
Similar Articles
---