"Celebrated Iranian-Canadian sculptor skips New York show"
17 February 2017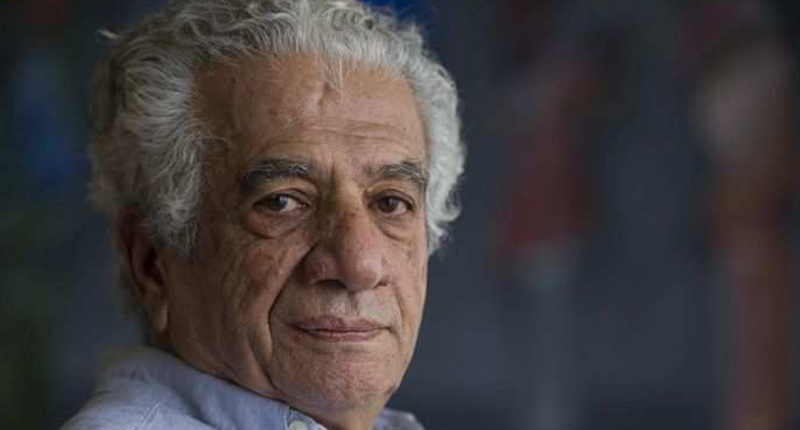 As much as he wants to, Vancouver artist Parviz Tanavoli won't go to New York to see his sculpture that the Museum of Modern Art recently put back on display in an exhibition that displaces such notables as Henri Matisse and Pablo Picasso.
Tanavoli likely won't get to see the exhibition for the very reason that MOMA made the dramatic gesture to showcase permanent works in its collection by Muslim artists — U.S. President Donald Trump's travel ban on citizens and people born in seven Muslim-majority countries.
"I now have to be very careful," Tanavoli said in an interview. "Because I was born in Iran, they stop you because of your birthplace and despite my Canadian passport. It's annoying."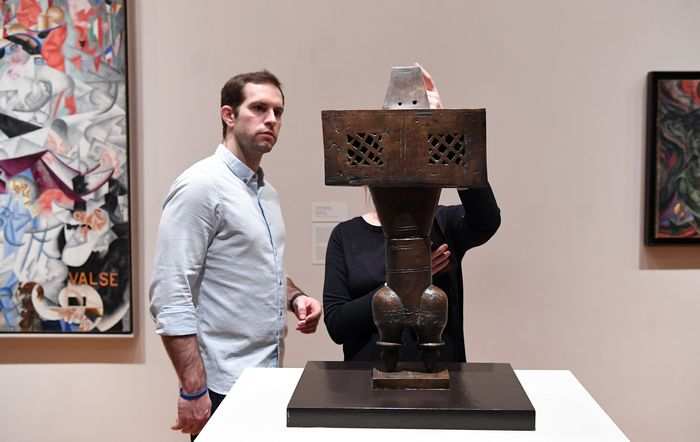 The ban comes as the 79-year-old is finally achieving wider international recognition.
His first solo show in the United States was at the Davis Museum in Wellesley, Mass. last year. At London's Tate Modern, his work was included in the four-month, pop art exhibition that ended last month. His sculpture is in the British Museum's permanent collection and last July it hosted the launch of his latest book, European Women in Persian Houses, which includes many images from his own collection of drawings, postcards and lithographs.
For years, Tanavoli has walked a discreet path, making art that is evocative and provocative yet not overtly political. His best-known works are the 'heech' series, which he began as a young artist in Tehran in the 1960s. Heech is the Farsi word for nothing or nothingness.
In 1971, he was commissioned by the Shah's wife to do a heech for the palace. The shah wasn't that keen on it, concerned that nothing was a commentary on him and his rule. But he accepted the explanation that Tanavoli countered with that it was a commentary on the artist as a young man.
It's not that Tanavoli is apolitical. All artists are, either directly or indirectly. He counts himself among the latter, producing art that is "not a very direct voice of action."
Trump's disputed travel ban may have changed that.
"What I would really like to do is make a monument to those who remain behind borders or have gone through some difficulties because of the ban," he said. "Some of them are our friends and acquaintances. Some left their families and now can't get back or they've had to rush back [in the hiatus resulting from court challenges]."
Born in Tehran in 1937, Tanavoli went to art school in Milan, returned home and became a founding member of the Saqqakhaneh school, a neo-traditionalist movement that uses traditional symbols, shapes and objects.
Tanavoli emigrated to Canada in 1989, a decade after the Islamic revolution and the year that the Ayatollah Khomeini declared a fatwa against British citizen Salman Rushdie for his book, The Satanic Verses.
His work had been banned and it wasn't until 2001 that Tanavoli with the government's blessing held an exhibition in Tehran. Since then, he's reopened his studio and foundry where the bronze sculptures are cast and divides his time between here and there.
It's not been without problems. Tanavoli's never recovered the sculptures that Iranian authorities confiscated during a dispute over his house. Last July, he was detained for two weeks and had his passport confiscated after trying to leave Tehran after an influential woman 'convinced' police not to let him leave. Tanavoli had refused to give her some of his sculptures.
He's been back since then, but "every time I go to leave Iran, my heart stops beating. I never know if I will be allowed to leave because it's always at the last moment that people are detained.
"I keep going back because I didn't do anything wrong."
He'll be back in Tehran later this year for a retrospective exhibition that was rescheduled until after both the May 19 presidential election and Ramadan.
Despite his renown, the man described as "Iran's most renowned living artist" has been largely ignored in his adopted home.
No public galleries or museums has his work in its permanent collection and it has never been shown at the Vancouver Art Gallery.
His sculpture is in the permanent collection of Toronto's Aga Khan Museum and it was shown in 2013 along with 15 other contemporary Middle Eastern artists at the University of British Columbia's Museum of Anthropology.
For years, it didn't bother him that much. Now, it makes him "a little bit sad."
"I was hoping that over time it would solve itself. But that time has never come. I don't want to call it racism. But I think they don't want to be brave enough to do it.
"They should have some courage. It's not that I'm dying to have a show here. But people ask me about what's been done in my hometown. And I have to say nothing."
MOMA has shown courage in exhibiting the richness of diversity around the world. Now, would also be a good time — in this country's 150th anniversary year — for our public galleries and museums to show the world how immigration has enriched Canada.
Similar Articles
---