"In Iran an underground art scene become mainstream"
18 January 2018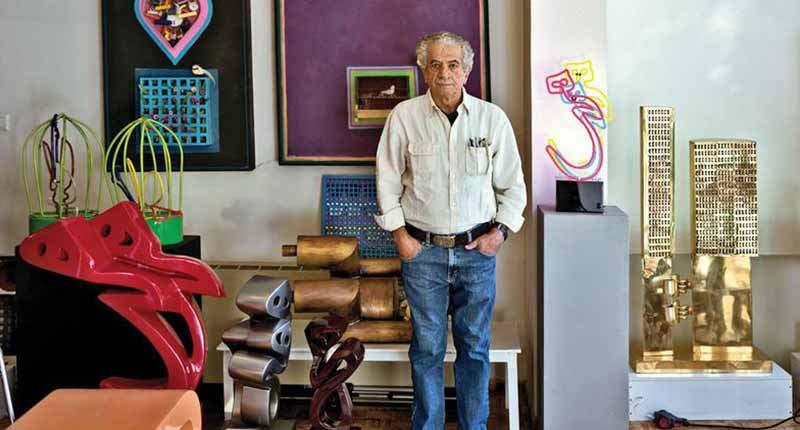 "In Iran, An Underground Art Scene Becomes Mainstream: Homegrown artists are fueling a dynamic market for contemporary work" - By Joshua Levine
SOON AFTER I arrived in Tehran, I heard that one of Iran's best-known artists had just had his passport seized for committing this kind of thought crime. Parviz Tanavoli first made his name as a sculptor back when the shah still ruled Iran (prerevolutionary artists are often referred to as "modern" as opposed to "contemporary"). He now lives mostly in Vancouver but returns periodically to an elegant house designed for him by Kamran Diba, Farah's cousin, who also designed (and briefly ran) Tehran's Museum of Contemporary Art. Some years back, Ahmadinejad, an implacable foe of the cosmopolitan Tanavoli, had wanted to gut the house and establish a mosque in its place. Somehow, Tanavoli managed to hold him off.
I met Tanavoli in the garden of Diba's boxy modernist gem of sand-colored brick with dark-green trim. The small swimming pool was empty, and all around it were sculptures in the artist's signature shape, a calligraphic form that looks a little like a two-eyed alien bending over one curvy leg. It's called a heech, which is the Persian word for nothing, but with a Sufi mystical twist implying that nothing is everything.
Tanavoli does many other things—he was preparing for a forthcoming exhibit of lion sculptures when I met him—but the heech is his personal brand. He made the first one in 1965, and he's made thousands since, from massive heeches for museums to little jewelry heeches for Tehran's smart set, for whom they are de rigueur. "I am a heech-making factory, it pays for my whole living," says Tanavoli. "Everybody has to have a heech—rings, jewelry. What amazes me is that they still want them."
Tanavoli told me he had spent the morning with the authorities, trying to defend himself against vague charges to get his passport back. At the root of everything was the heech. "It's more serious than I thought," Tanavoli says, not looking remotely troubled. "They are telling me that my work creates anxiety, that I am telling people false things. How do you defend against that?"
Public sympathy was with him. A cartoon by a Tehrani satirist circulated on social media: Tanavoli is asking a uniformed gendarme, "What have I done?" and he responds with a bubble containing a heech—"Nothing!" A friend of Tanavoli's told me something else the following afternoon. "I know the woman who caused all these problems—somebody had made a legal claim against Tanavoli," she says. In her version, the government confiscated his passport pending the resolution of a commercial dispute, not for ideological reasons (Tanavoli later said the dispute was trumped up as an excuse). Whatever in fact transpired, within short order he got his passport back, and no more was heard about anxiety-provoking heeches.
Photo: Robert Polidori for WSJ. Magazine Artist Parviz Tanavoli among his work at his home in Tehran.
Similar Articles
---