"Detained artist back home"
25 July 2016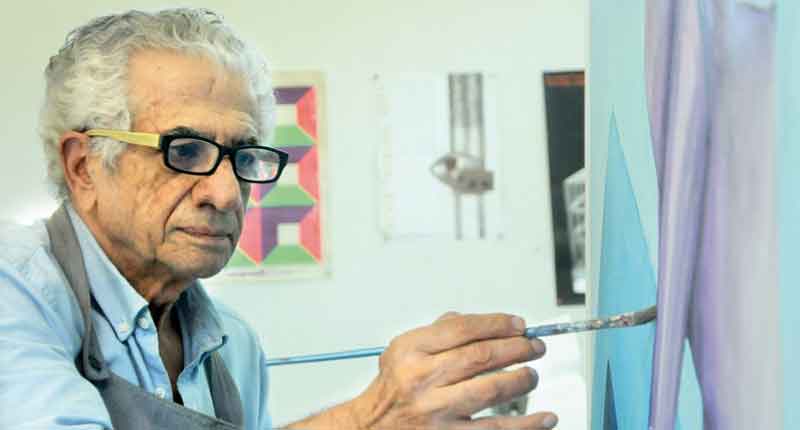 Iranian artist Parviz Tanavoli returns to his Horseshoe Bay studio after the unexplained confiscation of his passport by Iranian authorities. The global ambassador of Persian culture has called the North Shore home since 1989. file photo Mike Wakefield, North Shore News
Parviz Tanavoli made it home.
More than two weeks after Iranian officials seized his passport for vague reasons, the celebrated sculptor and West Vancouver resident stepped off his plane at Vancouver International Airport this week to be reunited with friends and family.
"I can't tell you how good it feels to be here in Vancouver with my family. This is a paradise," he said. "You can't imagine when I landed and I saw my family's faces."
The detainment forced Tanavoli to cancel an appearance at the British Museum to promote his new book: European Women in Persian Houses.
The book's cover, which features a drawing of a woman wearing a sheer robe, may have factored into his detainment – although authorities refused to offer any rationale for confiscating his passport.
"Believe me, I never got any explanation," he says. "I've been going back and forth for 27 years … this never happened before."
Tanavoli has relished his role as an ambassador of Persian culture – but acknowledges not everyone admires his work.
"There are some extremists in Iran, they're very anti-art, Western culture, and they don't appreciate people like me."
The confiscation was further complicated by the role of the police, who ordinarily have nothing to do with issues of art and culture, according to Tanavoli.
"Whatever my problem was … it wasn't the police's job," he said. "The police put me into trouble and they got me out of it too."
Speaking to the Iranian Students' News Agency, a spokesman for the police attributed Tanavoli's detainment to a judicial order, not any police action.
During his detainment, Tanavoli opened his studio and tried to continue a normal life, but was frequently frustrated by the uncertainty of his case.
"I didn't know what had happened and I couldn't figure it out. And when they don't tell you what happened, that is even worse."
Tanavoli finally received his passport after the attorney general in Iran released a paper reporting there was no wrongdoing, he said.
A petition on change.org advocating for the return of Tanavoli's passport received 550 signatures in support of the artist.
While he characterized the legal trouble as "a bitter experience," Tanavoli still plans to return to the land of his birth.
"I have to go back to Iran. I have an exhibition, I have a lot of unfinished work, I have students waiting for me. I cannot abandon everything."
Tanavoli is currently hard at work on an exhibition scheduled for early 2017, featuring the lions of Iran.
"I have a lot of work to do," he says.
Tanavoli's best-known work may be a series of bronze, fiberglass and ceramic sculptures inspired by Heech, the Persian word for nothingness.
He graduated from the Tehran School of Arts in 1956 and later became head of the sculpture department at Tehran University from 1964 to 1979.
Similar Articles
---