"West Vancouver sculptor makes medallions to support hospitals in native Iran"
30 April 2020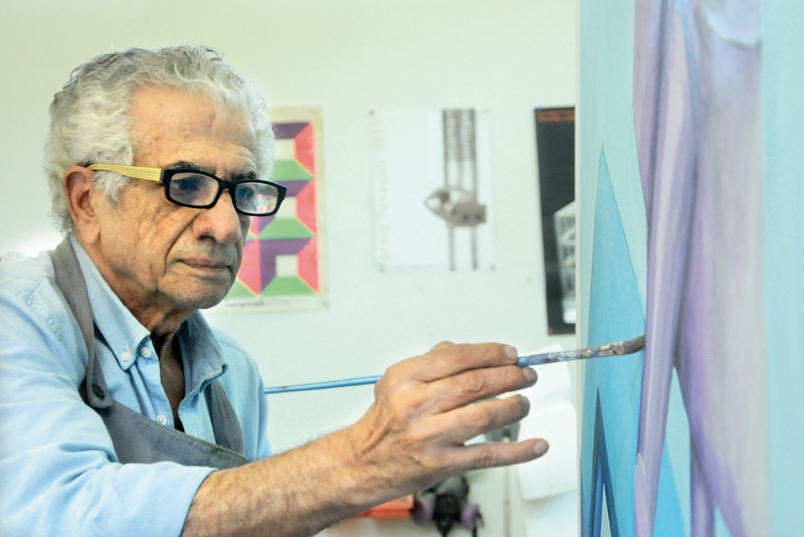 Parviz Tanavoli creates nightingale medals to honour health-care workers
A celebrated Iranian artist who lives in West Vancouver has created medallions to raise money to support health-care workers on the front lines of the COVID-19 pandemic in his home country.
Parviz Tanavoli, 83, often referred to as the father of modern Iranian sculpture, has designed a limited edition of 100 bronze and 20 silver medals to show his appreciation for hospital staff and front-line workers who are combating the ongoing health crisis.
"The health-care workers are doing so much, they are so brave. So many of them have died already," said Tanavoli. "They are working day and night, and they are doing everything to save more life. I decided to make a medal in their memorial because these are heroes, and out of the sale of these medals hopefully help them out to buy some of the equipment they need."
Iran has been one of the countries most affected by the COVID-19 virus. More than 6,000 people have died and nearly 95,000 cases have been recorded since the country announced its first novel coronavirus cases in February.
"My daughter is there – it seems a lot more dramatic than what we hear," said Tanavoli, who since 1989 has divided his time between Tehran and West Vancouver. "The present situation in Iran is so dramatic, and there's so much crisis going on. The plunging of oil prices, the sanctions, and then this epidemic – COVID-19 – all added up and people are really fighting for their life."
Tanavoli was inspired to create the design for his limited-edition medals at the end of March.
Featured on the face of the medallion is a nightingale singing on the palm of a hand. On the back is a cypress tree imbued with a warm inscription.
In Iranian folklore, a nightingale is a well-known symbol of love that brings amorous messages of the beloved to the lover, according to Tanavoli. A cypress tree is a symbol of eternity and long life and is often employed as a symbol by Persian poets, he added.
Noting a series of hundreds of small vertical lines that lie in the foreground of both sides of the medals, Tanavoli said they're meant to represent the Iranian people as a whole.
"There is a texture in the background, that's like the message of the people. That they're embracing these symbols," he said.
Tanavoli graduated from the Tehran School of Arts in 1956 and eventually became the head of the sculpture department at Tehran University from 1964 to 1979, before coming to Canada.
Among his best-known works is a series of bronze and fibreglass heech sculptures – heeches being sculptural renditions of the Persian word for "nothing" – that he began working on in the '60s and which showcase the intersection between contemporary art and traditional Persian folk art.
In 2016, Tanavoli was detained for a two-week period after Iranian officials seized his passport while he was there visiting, forcing him to cancel an appearance at the British Museum that had been lined up to promote his new book of non-fiction. Authorities at the time refused to provide a reason for his detention.
Although the incident was jarring, Tanavoli still considers Iran home, as he does Canada.
"Let's say, I separate the government from the people," he said.
He's hoping to raise $100,000 from the sale of his medallions in order to support hospitals and health-care workers in Iran, with the bronze medals on sale for $600 and the silver priced at $1,500 each.
Inquiries can be made by emailing pr@tanavolimuseum.com.
"This is the minimum that I can do, to make a medal and have the sale of it help some," he said. "It's like a drop in the ocean, but still better than nothing."
Similar Articles
---