"Iranian Artist Parviz Tanavoli's 'Heech Garden' Exhibit Mixes Old With New"
14 April 2015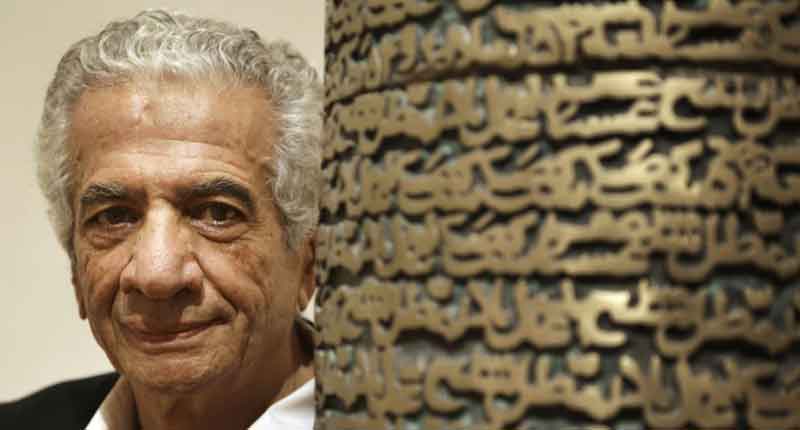 Iranian artist Parviz Tanavoli stands near a detail of his sculpture "Poet Turning into Heech," at the Davis Museum on the campus of Wellesley College in Wellesley, Mass.
It has been 39 years since Parviz Tanavoli, one of Iran's most well-known contemporary artists, held a solo exhibit in the United States.
Today, the creator of "Heech" (the Persian word for naught or nothing) walks around ruminating his memories in the "garden of his naughts" at the Davis Museum in Massachusetts.
The U.S. exhibit came to fruition, thanks to Lisa Finchman, the museum's director, and Shiva Balaghi, a Brown University art historian.
"We have had an amazing good fortune with Parviz's help to open the door on 60 years of art making," explained Finchman, as she described the exhibit. "We have a gallery of about 185 objects, a beautiful range of works arrayed around a centerpiece which I would like to think of as the Heech Garden."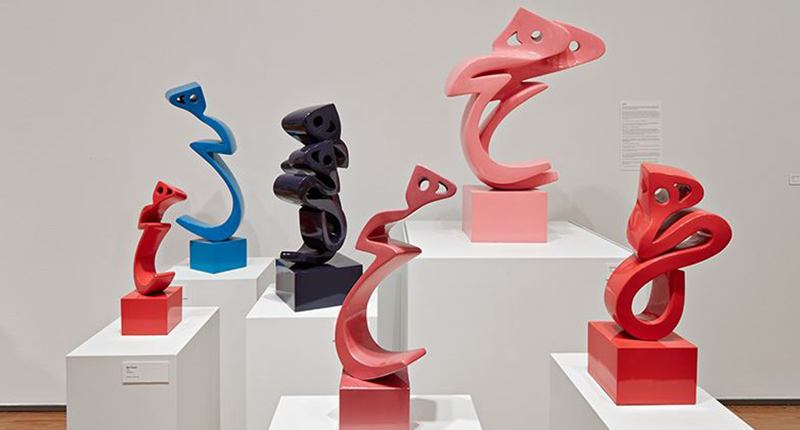 Parviz Tanavoli's "Heech" garden at the Davis Museum in Massachusetts. (Photo: S. Dehghan / VOA)
Tanavoli's works are arranged in chronological order, as well as by historical theme, in order to demonstrate the artist's perspective on objects and the creative force which has driven him for six decades.
"My newest works are displayed in this exhibition," Tanavoli told VOA; "All the works that I have made over the past 25 years in Canada, more than 180 pieces, are here. A number of them have been borrowed from different museums and institutions. We didn't manage to bring any artifacts [art works] from Iran because of the sanctions."
The lover, the poet, the wall, the trellis, the lock, and the naught have all come together under one roof in different forms and styles - from paintings to sculptures to jewelry - an illustration of Tanavoli's artistic metaphors and poetic symbolism.
Parviz Tanavoli draws inspiration from "Farhad , the Mountain Carver", the only sculptor referred to in classic Persian poetry. (Photo: S. Dehghan / VOA) The artist draws inspiration from "Farhad, the Mountain Carver" - the only sculptor referred to in classic Persian poetry.
In Iran, some of Tanavoli's statues still stand in their original locations in public squares. But some are in limbo.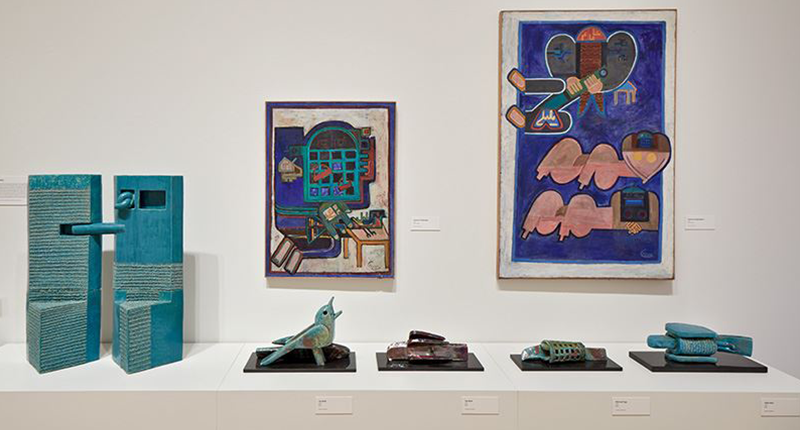 Parviz Tanavoli's statues, rugs, paintings, and jewelry come together at the Davis Museum in Massachusetts. (Photo: S. Dehghan / VOA)
"Last spring when we were all in Art Dubai, we saw a troubling video about how some of Parviz Tanavoli's art was being treated in Tehran," explained art historian Balaghi. "We all knew that something needs to be done. I thought maybe we should write an article, maybe an op-ed to the New York Times to feel good about ourselves, but Lisa said no we should do an exhibition."
Tanavoli made his first trip to the U.S. in the early 1960s when he joined the College of art in Minnesota as an artist-in-residence.
There, he was introduced to American modernism, including the Pop Art that would transform his style.
Tanavoli held his last individual exhibition in the U.S. in 1976. Since then, he has occasionally visited the the country to display his art works.
"Looking at my old works is like seeing one's beloved ones after a long time," the artist said.
"Some of the works that have come from the New York University collection date back to 40 years ago or more. I was so glad to see them. I had almost forgotten them. I was kind of happy with myself to see that my work wasn't so bad 40 or 50 years ago," he joked.
A part of the exhibit is dedicated to Tanavoli's books which chronicle his works.
Similar Articles
---